If you're anything like me, you probably have a plethora of financial accounts to keep track of. Years ago (long before Personal Capital was founded), I decided that I needed to simplify the way I managed those accounts. That's when I discovered Mint. If you're already familiar with Mint you know that the platform allows you to bring all of your accounts under one roof which streamlines account management. Instead of logging into each account separately to check your balance or recent transactions, you can use Mint to review everything in just minutes.
Mint turned what was previously a tedious and time-consuming process into something that took just a few minutes a week.
For nearly a decade, I was a loyal user and proponent of Mint's personal finance tools and resources. But it was a little over a year ago that I started hearing about Personal Capital. People told me that Personal Capital picks up where Mint leaves off. While Mint focuses on budgeting, debt reduction and account tracking, Personal Capital provides better tools for tracking investments and resources for financial planning.
Because I was finally entering the stage of my life where I was building wealth rather than chipping away at law school loans, I thought it would be worth looking into.
Being a creature of habit, however, I was resistant to change. That's why it took a fair amount of research before I was comfortable making the leap to Personal Capital. It's now been more than a year since I made the switch and I'm glad I did!
I hope this review will help you become familiar with Personal Capital's services so you can decide if it's right for you too!
What is Personal Capital?

Personal Capital offers a suite of financial tools that help users track their income, expenses and net worth. Founded in 2009, Personal Capital's chief goal is to "build a better money management experience for consumers" by "altering the traditional financial services landscape."
As I'm writing this, Personal Capital serves more than 1.4 million users with over $350 billion in tracked accounts. On top of that, Personal Capital is a Registered Investment Adviser (RIA) managing over $5 billion in client assets.
Personal Capital really offers two types of services through their platform.
1. There's a free financial account aggregator that features budgeting tools as well as resources to help you manage your investment portfolio, taxes and retirement planning.
2. They also offer paid financial advisory services for clients with at least $25,000 to invest.
So far, I've only taken advantage of Personal Capital's free financial tools and resources. For that reason, this in-depth review will only focus on the free financial aggregation component. I'll update this review if I eventually use or become very familiar with their paid services.
Who Is Personal Capital For?
Personal Capital is best for:
High-net-worth investors
Hands-off investors
Tax optimization
Investors seeking free financial managements tools
Is Personal Capital Committed to Protecting My Information?
Any time you supply sensitive information online you'll want to know that it will be properly protected. That's especially true when you are providing information about your financial accounts! The good news is that Personal Capital is among the best in the industry when it comes to security.
In fact, Personal Capital's Chief Technology Officer Fritz Robbins, has suggested that logging into Personal Capital to monitor all of your financial accounts in one place may be safer than repeatedly logging into separate accounts at different financial institutions.
So, what steps does Personal Capital take to protect your information? For starters, you must register each electronic device that you use to access your Personal Capital account. To do so, they will send you an email or call your cell phone so you can verify your device.
Personal Capital also uses top-notch encryption tools to prevent your passwords from becoming available even if your computer or electronic device is compromised. Rather than storing your account credentials in their own database, information is encrypted and stored with Yodlee (a financial industry leader in data security).
It's also worth noting that all information is encrypted as read-only. That means you can't actually initiate any transactions from within your Personal Capital account. That also means that if someone gained unauthorized access to your Personal Capital account, they still couldn't withdraw or transfer funds.
Getting Started
Getting started is easy! Begin by going to Personal Capital's website or downloading the app and opening your free account. Once you've signed up, start linking your financial accounts. You can link your financial accounts including your bank, credit cards, mortgage, loans, and investment accounts. All you need to do is supply your personal account information and passwords. I found this process to be simple and painless.
Once you've linked your accounts, you'll be able to see everything in one place! Personal Capital's web-based software aggregates all of your financial information to produce a series of charts and graphs. This gives you an overview of your income, expenses and investments without having to go from website to website.
Each night, Personal Capital's servers will log into each of your accounts to obtain the most up-to-date account information. Although the account information displayed on the app or website isn't updated in real-time, your information will never be more than 24 hours old. And it will always be available in one place!
JOIN PERSONAL CAPITAL FOR FREE
Financial Tools
Personal Capital's free financial tools are what really separate them from other financial aggregator sites. Their financial software and analytics systems are powerful tools that can help you develop or sharpen your long-term financial strategy. Among other things, Personal Capital's free financial tools can help you:
Calculate your net worth
Set a budget
Discover hidden fees
Manage your investment accounts
Plan for retirement
Let's take a closer look at each of these features.
Net Worth Calculator
Calculating your net worth doesn't require any complex math equation. Just add up the value of everything you own and deduct your debts and liabilities. Simple, right? Well, the math is easy, but it takes time to gather all that information. And the more assets and liabilities you have, the more work you have to do to determine your net worth.
By linking all of your accounts to Personal Capital you can get a complete view of your net worth in seconds. And you can have it without logging into each and every financial account or doing any math. Personal Capital's Net Worth Calculator is a valuable tool to assess whether you are on the right track to meet your short- and long-term financial goals.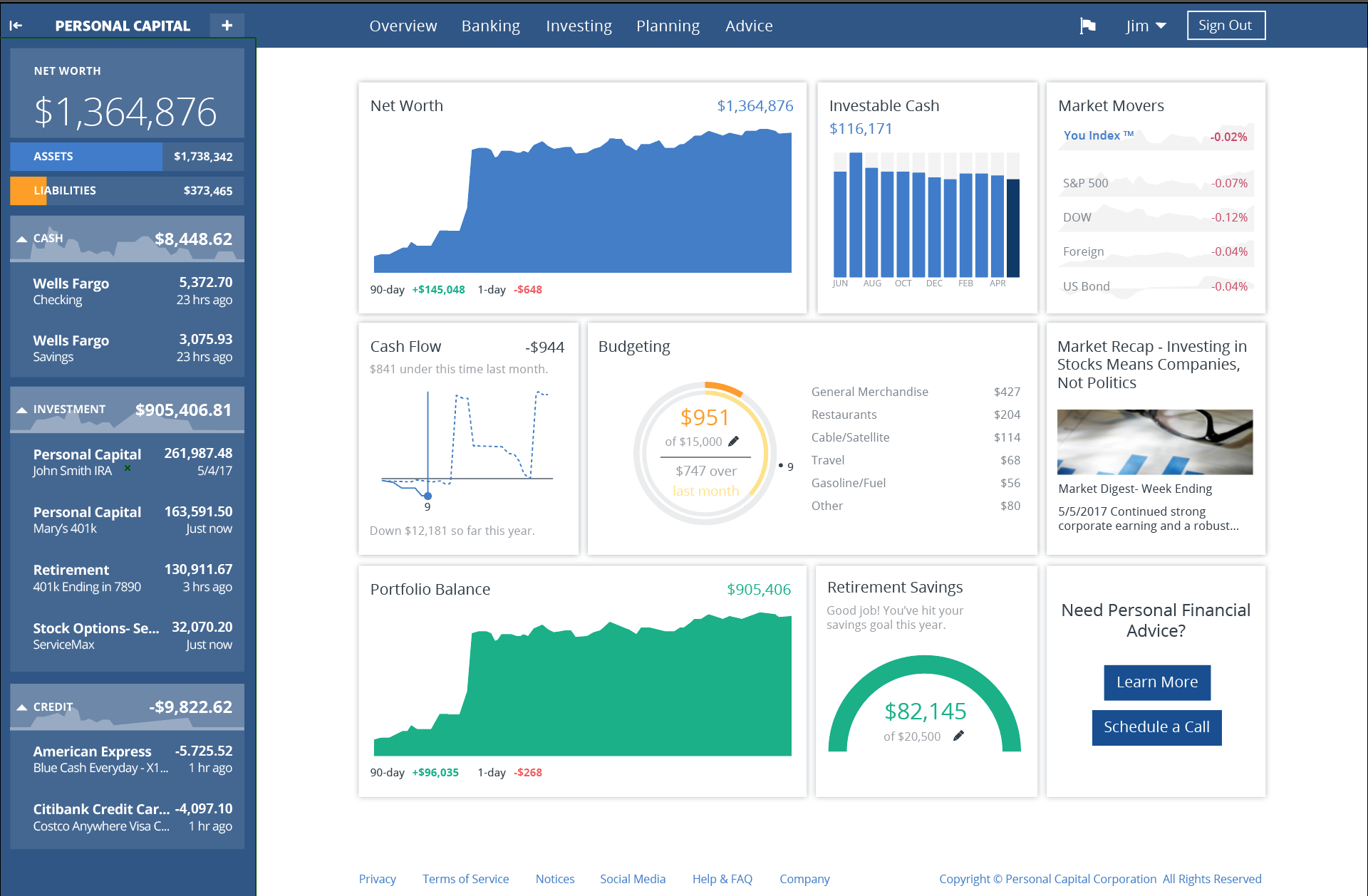 Cash Flow Analyzer (Budgeting Tool)
Personal Capital's Cash Flow Analyzer allows you to track your spending habits effortlessly. It's easy to set a monthly spending target. And if you've linked all of your credit cards, debit cards and bank accounts you can see how closely you are sticking to your budget with real-time information.
The Cash Flow Analyzer also allows you to track weekly, monthly, and annual income and spending habits. This is especially helpful because you can view transactions all in one place and sort them by category, date, or merchant. In addition, the tool will also help you keep track of bills and upcoming payments.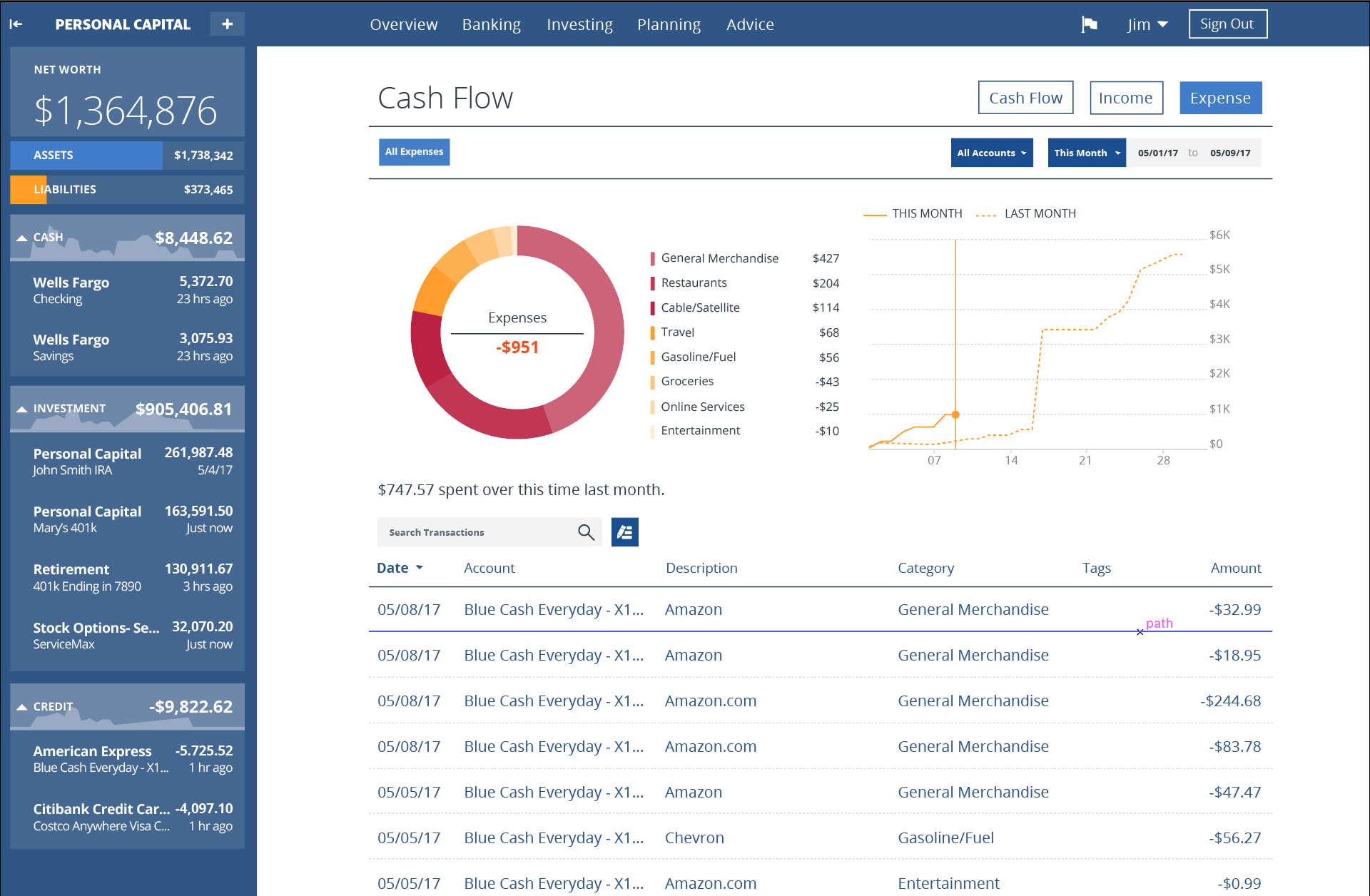 Retirement Fee Analyzer
Did you know the average American household will lose approximately $155,000 in 401(k) fees during a lifetime? I don't care how wealthy you are; that's a staggering amount of money. Even the smallest of fees can pile up and significantly diminish your lifetime savings. That's why Personal Capital's Retirement Fee Analyzer is such an amazing tool! It will analyze your investment portfolio to pinpoint excessive fees so you can gain a better understanding of how they could impact your retirement.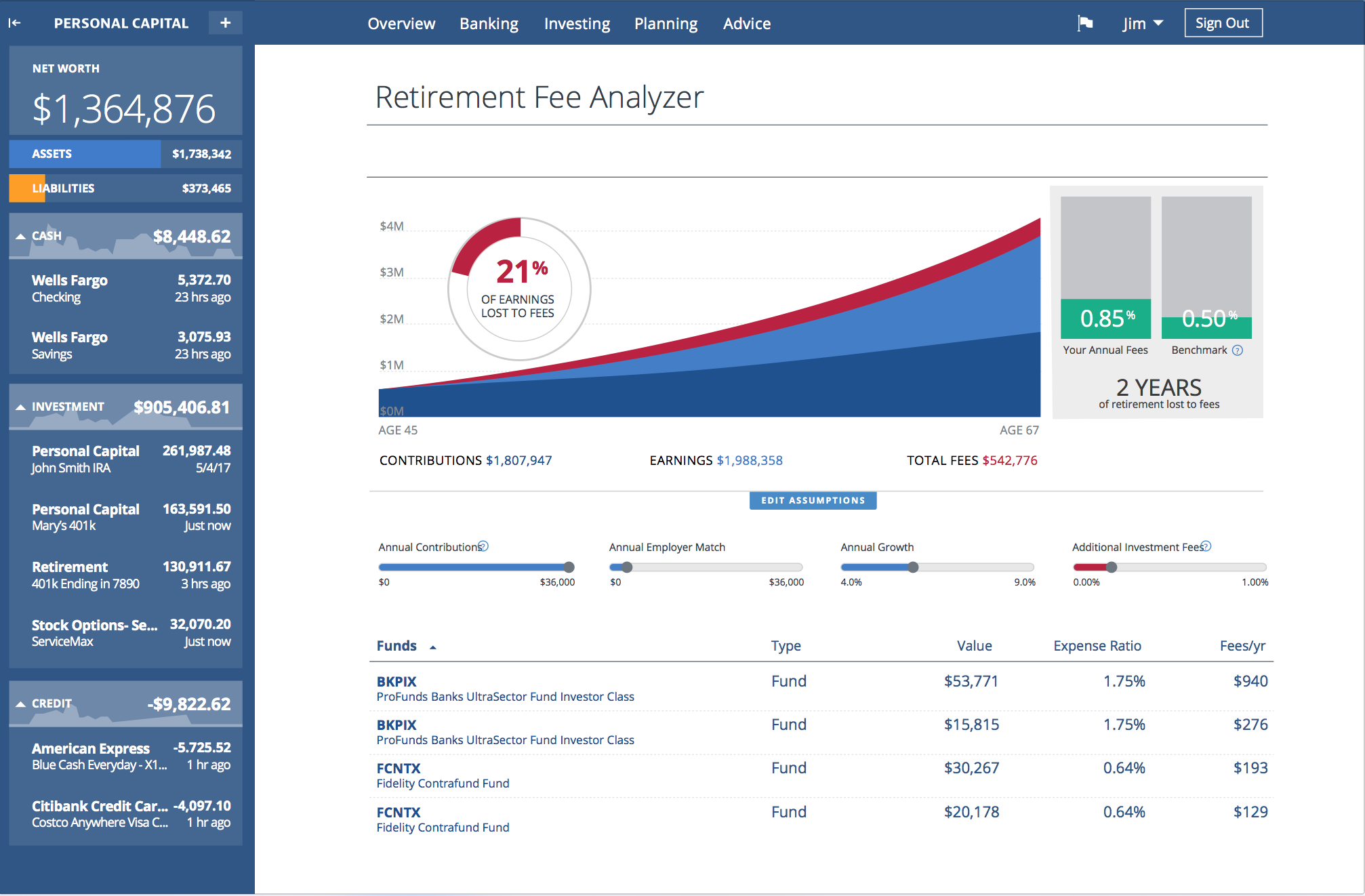 Investment Checkup
When you create an account, you'll need to answer some basic questions about your investment goals and risk tolerance. Based on your investment profile, Personal Capital will generate a "Target Allocation," which is a recommended asset allocation based on your need, desire, and ability to take risk. The idea is to minimize risk and maximize returns in a way that is compatible with your risk tolerance and financial goals. You can easily compare your current investment portfolio to Personal Capital's Target Allocation. This will help you decide if it's time to consider rebalancing your portfolio to create the optimal mixture of asset classes to achieve your financial goals.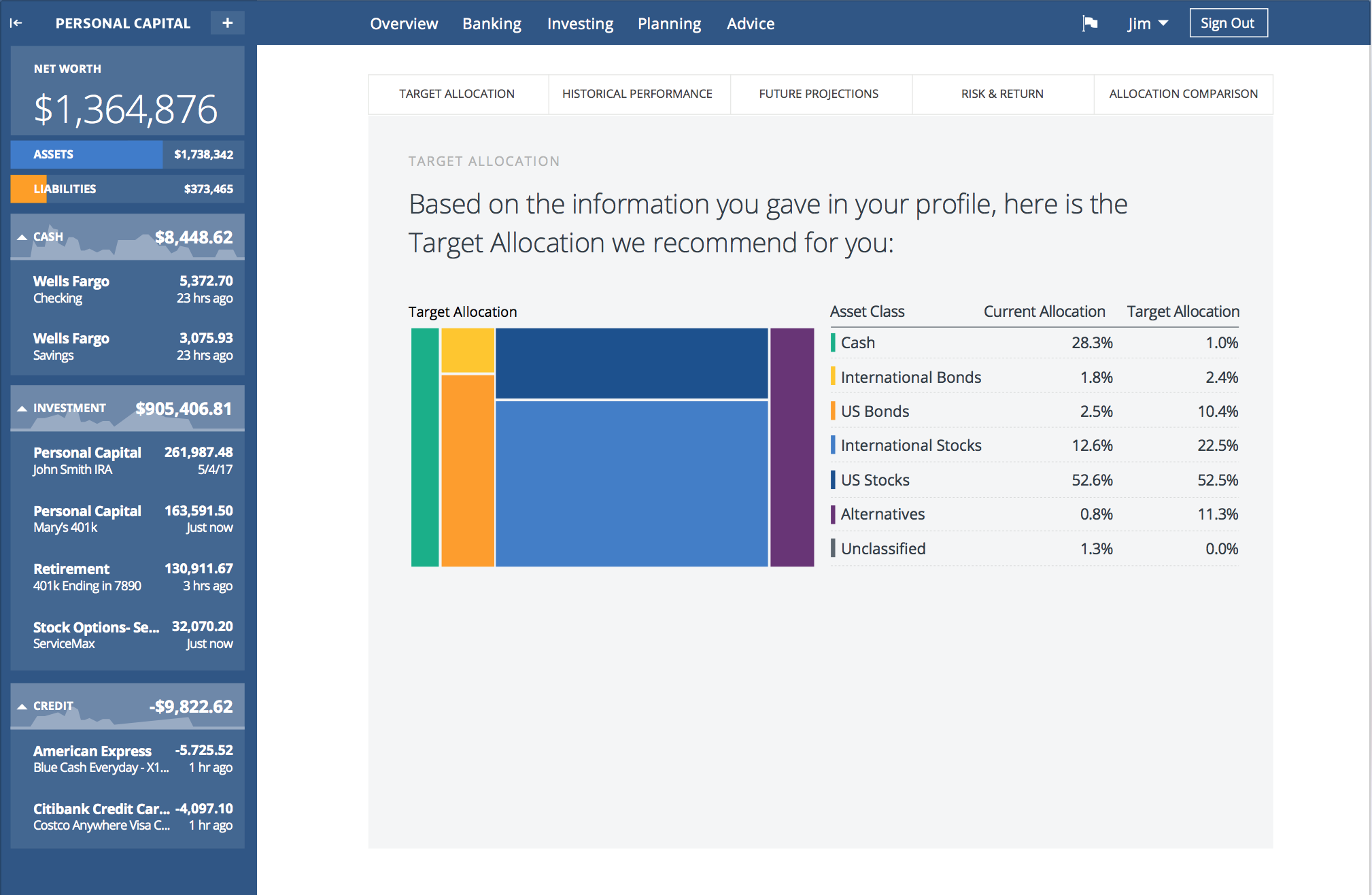 Retirement Planner
Personal Capital's Retirement Planner is an excellent feature that can help you save and invest to reach your retirement goals. Like other retirement planners, Personal Capital automatically takes the actual financial data from accounts you've linked to project your financial status as you during your retirement years. But it doesn't stop there.
The Retirement Planner also allows you to include additional information like major expenses (e.g., buying a home, getting married, etc.) and additional income sources (e.g., pension, Social Security, rental income) to see how they might impact your retirement plan.
The Retirement Planner is a no-nonsense tool that will tell you exactly what kind of shape you're in for retirement. This is, without a doubt, the best free retirement planning tool I've come across so far!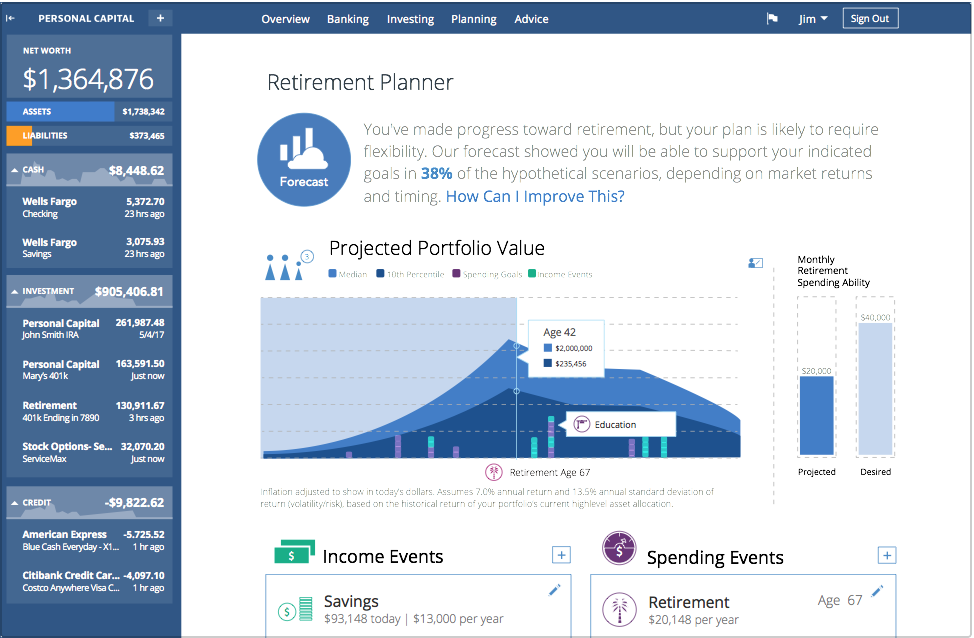 Pros
Free to Use. Personal Capital's financial software is free to use and you are not obligated to use their wealth management services.

Ease of Use. Signing up with Personal Capital couldn't be easier. Plus, the interface is user-friendly and the charts, graphs and reports are filled with valuable, easy to understand information.

Accessibility and Compatibility. In addition to accessing Personal Capital on your desktop, you can also install the app on most any device. The app is compatible with Android, iPhone, iPad, and Apple Watch.

Aggregation. Personal Capital gives you access to all your financial accounts in a single location. The more accounts you have, the more likely you are to benefit from this tool.

Powerful Tools. Personal Capital's free tools can help you lower your investment fees, track investment performance, optimize asset allocation and make better financial decisions.
Cons
Difficulties Linking Accounts. I ran into some technical issues while trying to link certain financial accounts. I was eventually able to connect those accounts, but Personal Capital still struggles to update information for those accounts which mean the net worth tracker isn't always up-to-date.

Limited Budgeting Tools. Since Personal Capital is primarily used to track net worth, it's not surprising that their budgeting tools aren't anything special.
JOIN PERSONAL CAPITAL FOR FREE TODAY
Is Personal Capital Right for You?
While Personal Capital can be a great tool, it might not be perfect for everyone. Here's why: As I mentioned earlier, if you are focused on budgeting and getting out of debt, then you might be better off trying Mint, Empower, or Cinch. Personal Capital is far more investment-driven as it primary focus is on building net worth. You might feel overwhelmed by the seemingly irrelevant information (or maybe even discouraged by a negative net worth) if you haven't reached the growth stage of your financial journey yet.
The good news is, if you continue to eliminate debt then you'll be ready for Personal Capital's more sophisticated tools in no time!
A Few Final Thoughts
It's tough to ever complain about getting something for free. And that's exactly the case here. Personal Capital's financial software is far superior to any other free product on the market.
The Retirement Planner is hands-down the best free retirement planning tool you'll find anywhere. The 401(k) Fee Analyzer will help most people save money or at least gain the peace of mind of knowing that their retirement isn't being depleted by excessive fees. The Net Worth Calculator is the perfect way to track your financial progress and monitor spending habits. The Investment Checkup tool provides insightful high-level investment recommendations. There is a lot to like about Personal Capital!
If you're ready to track your net worth, monitor investments and make better financial decisions then why not get started with Personal Capital today? With a $0 pricetag, you won't be sorry.